Abstract Movement at Talbot Rice Gallery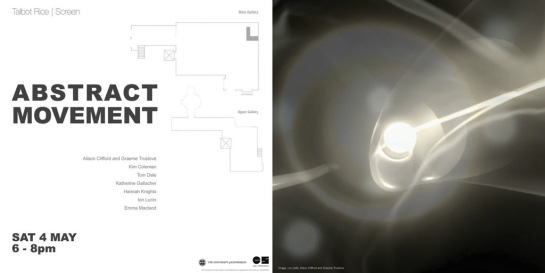 ABSTRACT MOVEMENT
Talbot Rice Gallery, Edinburgh Sat 4th May 2013
Alison Clifford and Graeme Truslove, Kim Coleman, Tom Dale, Katherine Gallacher, Hannah Knights, Ion Lucin, Emma MacLeod
Saturday 4th May, 2013
Talbot Rice Screen presents an evening of abstract video works installed within and around the paintings and sculptures in the 'Drawn Away Together' exhibition.
The videos, selected from an open-call, span a broad range of moving image media including found footage, live action and computer-generated imagery. Like the works in 'Drawn Away Together', they explore and reveal the diverse and elusive nature of 'the abstract'.
The evening will also include readings of the collective poem devised during artist Kevin Henderson's Creative Writing Workshop 'Once somewhere, somewhen'. The readings will be conducted by participants of the workshop.